RENTAL FINANCE
Purchase of expensive equipment is most efficiently funded through some form of asset finance.
INVOICE FINANCE
Fast access to cash tied in your outstanding customer invoices.
TRADE FINANCE
Purchase order driven, releasing working capital into your business
Premium Finance
Premium Finance allows you to spread the insurance cost over regular instalments.
Generally, the purchase of expensive equipment is most efficiently funded through some form of asset finance.
Rental agreements or off-balance sheet financing allows the customer to own the use of the technology, not the technology itself with the added benefits of upgradability and maintenance.
Rental agreements are suitable for businesses using equipment with either a high obsolescence or which require replacement on a regular basis.
Rental packages can be customised for various industries and offer many advantages for the customer, making this form of finance highly attractive.
Customer Advantages include:
Off- balance sheet financing.
Corporation tax benefits. The monthly rental payments are fully deductible as an expense for corporation tax purposes.
Tailor made payment structures to suit the customer's monthly cashflows.
A complete practical financial solution – hardware, service and maintenance. A one stop shop.
The VAT on a rental is raised on the monthly payment and is not capitalised "up front" as with Finance Leases or Bank funding. This results in a saving of finance charges.
Improvement of the customer's "Gearing Ratio".
No initial large cash outlay. Monthly cash flow can be accurately planned for the duration of the rental agreement.
Alternative utilisation of the customer's cash reserves, for working capital or business growth, becomes available.
No fixed asset register entries or depreciation and wear and tear cost calculations and entries necessary.
Rent to Own – At termination of the rental period, the customer has the option to acquire the asset.
Invoice finance is the umbrella term for a type of funding that provides fast access to cash tied in one's outstanding customer invoices. It's an alternative solution to traditional types of business finance and is much more flexible than an overdraft or loan.
With our invoice finance product, invoice discounting, the customer maintains responsibility for managing collections, so the facility is entirely confidential.

How does invoice discounting work?
All you have to do is raise the invoice and we'll advance you up to 90% of the cash owed to you straight away, enabling you to keep your business moving without waiting to be paid.
When your customer settles the invoice, the remaining percentage is returned to you, less an agreed fee.

Trade finance is a type of business funding, which is typically purchase order driven and helps release working capital into a business.
This type of finance is built on the premise that buyers want to pay for goods as late as possible, and suppliers want payment as early as possible. Bridging this finance gap, and instigating trust between both parties, is the job of a trade finance provider.
What is Trade Finance?
Funding that allows you to make purchases and pay suppliers before you've received the cash from the sale.
Why pick Trade Finance?
It's the perfect fit when needing to pay a supplier up front to fulfill a large sales order or opportunity.
How does it work?
We pay the supplier on your behalf, so you get the goods. Then you pay us back when you make the sale.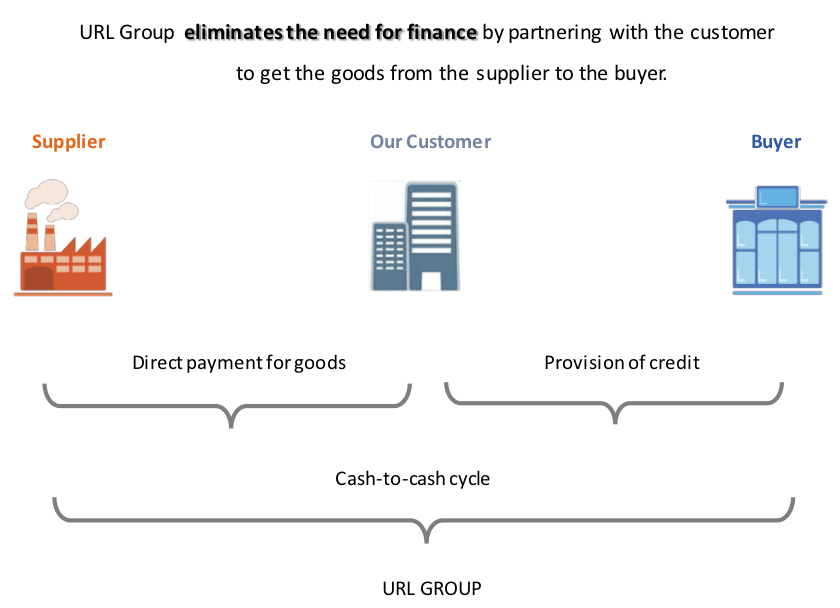 We are available to assist you with your financial requirements!
Our mission is to provide our customers with a personal service level, which consistently exceeds their expectations. This is achieved through combining all our experience and expertise to make the URL Group the premier financier that everyone wants to deal with in the SME, corporate and institutional sector.
About Our Company
The URL Group was established in May 2014 where originally, only rental finance (equipment leasing) was offered. In 2018 the group expanded its product range by offering its customers invoice finance, trade finance and most recently premium finance. The business was very fortunate to commence trading with a highly experienced team, who has many years of experience in asset finance and financial services. These experts in their respective fields, are all skilled, highly motivated, focused and operate with a real "can do" attitude . This expertise sets us apart from many other lenders and has been an important factor in the early success of the group. The URL Group's prime objective is to provide appropriate funding solutions for all their customers.
We are your Financial Solution.
Feel free to contact us